So a while ago you decided that you liked that shiny new domain extension that let you use your name or compose a funny word as a domain name to impress your nerdy friends. Back then you choose that unknown domain registar, cheap isn't always bad, right?
The moment where you realize you're left with only Nameservers
Well you are now left with your simple Nameserver configuration and no DNS servers.
No MX records for the mail, no CNAME for the hosting part.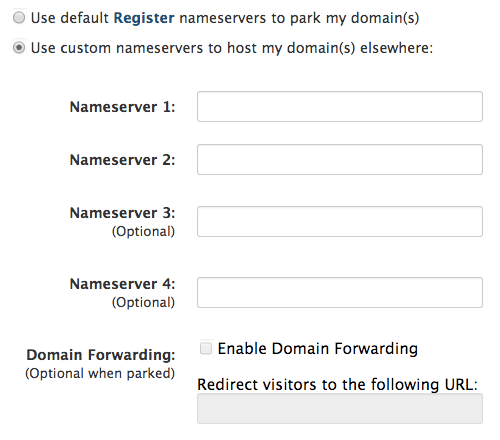 Enters Namecheap to the rescue.
Well, there are a ton of providers that happen to want to handle your DNS (Google why you not want own my DNS?). Namecheap started standing out in the past years for its activism. My Kudos. Oh wait, is that an ASP page I see? Ok Microsoft is changing keep calm everyone.
Back to the Namecheap FreeDNS. Their site is looking fine compared to their alternatives so I'm confident their Management tool is clean and simple. Not.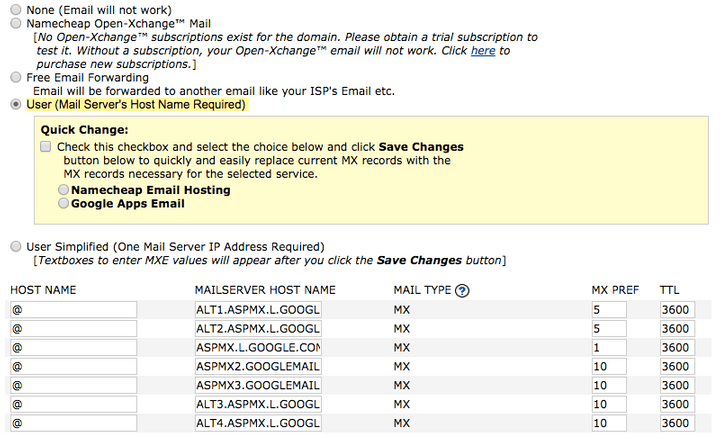 Ok they got me, at least they know I'm gonna appreciate the Google Apps Email automatic configuration.
By the way they are Name/Host/Alias Time to Live (TTL*) Record Type Priority Value/Answer/Destination Blank or @ 3600 MX 1 ASPMX.L.GOOGLE.COM Blank or @ 3600 MX 5 ALT1.ASPMX.L.GOOGLE.COM Blank or @ 3600 MX 5 ALT2.ASPMX.L.GOOGLE.COM Blank or @ 3600 MX 10 ALT3.ASPMX.L.GOOGLE.COM Blank or @ 3600 MX 10 ALT4.ASPMX.L.GOOGLE.COM
But from time to time you might want to check the updated list here.
On a side note you might want to consider a paid and simpler alternative as DNSimple
The part where you can go to sleep because you're gonna wait a couple of hours
DNS is b*@!#. Or maybe TTL is, or maybe both. You know what? Take it, I'm gonna sleep and take over from where I left in a couple of hours when my DNS propagates.
At least you can go back to your Domain Registrar and put the Free DNS service configuration in
freedns1.registrar-servers.com
freedns2.registrar-servers.com 
freedns3.registrar-servers.com
freedns4.registrar-servers.com
freedns5.registrar-servers.com
This is the second part of this blog post. You can read more about it at >>> Part 1